A question we frequently get asked is – What SD card should I buy?

We recommend using a Dash Cam compatible U3 SD card, that is specifically designed for Dash Cam or CCTV usage. We understand that most manufactures' SD cards do not meet these requirements and as so the retailers void the warranty on their SD cards if they're used in a Dash Cam. For peace of mind and a full one year warranty, we'd recommend using our own Nextbase SD cards in your Dash Cam. They are made for specific use with our Dash Cams and can be purchased from many retailers with a variety of storage capacities offered.
Why can't I use any SD card in my Dash Cam?

Nextbase have designed an SD card specifically to fulfil the needs of our Dash Cams. We work directly with the factory to ensure consistency of the SD card quality. Nextbase have spent years testing, trialling and developing SD cards to optimise their performance with our Dash Cams. Due to the differences in technology an SD card that works with a mobile phone or computer won't necessarily work well with a Dash Cam.
The main difference between all SD cards are the READ speed and storage size (32GB, 64GB, 128GB). U3 means the SD card has a minimum WRITE speed of 30MB/s as opposed to a U1 SD card which WRITES at a slower 10MB/s. READ speed isn't too important when it comes to Dash Cams, as a Dash Cam WRITES data to the SD card when recording. Our Nextbase SD card controller and Firmware on the SD card achieves the requirements from our Dash Cam, where other SD cards cannot. Due to the continuous recording and overwriting of data, the SD card needs to be a high-endurance card, otherwise the card may develop faults after a period of time; if a lower-capability card is used, certain features on the camera will not fully function due to being unable to re-WRITE and record. Symptoms of a non-compatible or corrupted SD card can be freezing, audible alerts, missing footage, gaps in footage and non-functional screens/buttons, as well as more.
The reason we recommend formatting every 2-3 weeks is because of the high intensity environment the SD card is used in within a Dash Cam and also protected files that can only be erased through formatting. Please check your Dash Cams user manual here for the compatible SD card storage sizes – 128GB is the maximum for our Dash Cams, the minimum varies depending on the Dash Cam. Your Dash Cam's full manual will contain this information.

This means the Dash Cam is always Loop Recording – when the Dash Cam is on it is always recording. From our experience most non-Nextbase SD cards struggle to do this as effectively as our SD cards, this has caused footage to be missing and footage to fail to record in the first place.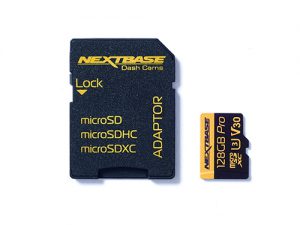 SD Card Q&A
Q) "Why should I buy a Nextbase branded SD card? Can't I just use any card?"
A) Our cameras have different requirements to other recording devices; this is because they need to keep recording when the SD card is full whilst overwriting the oldest unprotected files at the same time.
Q) "Why are Nextbase SD cards more expensive than other brands SD cards?"
A) Years of research and development have led to the creation of an SD card that has superior capabilities to ensure it works with a Dash Cam, where other SD cards don't have such capabilities. Dash Cams have greater technological requirements from an SD card than a mobile phone or computer, for example, thus the larger price tag.
Q) "Do non-Nextbase SD cards work at all?"
A) A card that is not made for this purpose may appear to work perfectly in the beginning, although failure tends to happen after prolonged use, this could be days, weeks, or months. In a worst-case scenario, you may only discover recording failure after your SD card fails to record a serious incident, therefore using a suitable card is imperative.
Q) I have a rear camera module as well as the Dash Cam, which SD card do I need?
A) If you are using a Rear Camera Module and a Dash Cam you need to ensure that a U3 SD card is used inside the camera. It is important to note that our 32GB U3 microSD Card will record approximately 4 hours of HD footage before the Dash Cam overwrites the oldest recordings, or 2 hours if using a rear camera module.
The 64GB U3 microSD Card will record 8 hours of HD footage, or 4 hours if using a Rear Camera Module. The largest SD card you can use is our Nextbase 128GB U3 microSD Card can record 16 hours of HD footage, or 8 hours if using a Rear Camera Module.
Q) "What errors may I encounter using a faulty or incompatible SD card?"
A) You may experience any of the following:
Automatic recording failure
Corrupted or unplayable files
Failure to startup and shutdown
Q) What is formatting an SD card?
A) Formatting your SD card wipes the SD card entirely to free up space for new recordings. Note: all our Dash Cams loop record which means the oldest footage is overwritten by the newest footage. However, after a while the SD needs formatting so it can keep doing this.
Q) Do you I need to format my SD card?
Yes, we recommend formatting your SD card every 3-4 week for regular every day users; and 2-3 weeks for heavy users.
Q) How do I format my SD card?




If you experience any of the faults listed above, we strongly recommend that you replace your SD card with a Nextbase one. All our dashcams are tested using Nextbase branded SD cards, therefore we cannot attest to the compatibility of other manufactures
products. For best results, we always recommend using Nextbase branded cards.