Know how to position your Dash Cam correctly. Getting it wrong could put you in the wrong!
Dash Cam footage is often used in the case of an accident to prove innocence or wrongdoing, as a Dash Cam owner it is your responsibility to make sure the Dash Cam is positioned correctly on your windscreen, ensuring it doesn't obscure your view of the road and possibly be the cause of a crash – ironically a major reason for having the Dash Cams in the first place. As improbable as it may seem, you can even find yourself being fined over the incorrect positioning of your Dash Cam if it is seen to be impairing the drivers vision.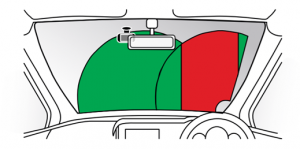 Nextbase recommend positioning it as seen above. The red zone represents obstructing the drivers view of the road – DO NOT POSITION HERE. The green area shows the surface area the windscreen wipers clean – vital it is placed within this area otherwise dirt on the windscreen could obscure the view of the Dash Cam. A 40mm intrusion into the green wiped area is the maximum permitted by UK law.

Insurers and the Police can ask for Dash Cam footage to review a claim and to find out who is at fault. Therefore, if it is found that the positioning of your Dash Cam was incorrect and actually illegal then an insurer is unlikely to cover you for any costs, injuries or damages and an incident may be seen as your fault.

If you also have a Nextbase Module that connects directly into the side of the Dash Cam (Rear View/Cabin View) you may have noticed that this would be obscured by the rear view mirror if placed where it is above. Below is the recommended position for your Dash Cam with a rear module attached. You can attach your camera near your rear view mirror to create a mirror mounted dash cam.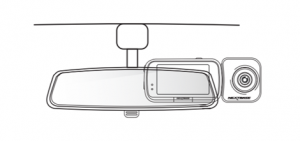 To minimise distractions and objects obscuring your view even further we strongly suggest hiding the cable in the lining of your car. This way you can plug your Dash Cam into the cigarette lighter socket and only see a small amount of cabling, making it as safe as possible and also neat and tidy. You can view our dash cam installation page here.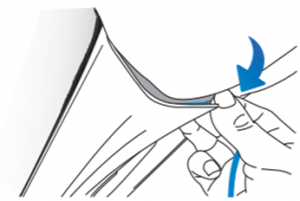 Related Guides